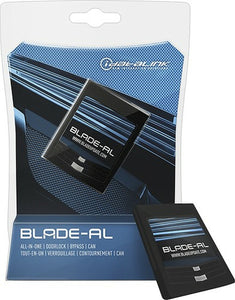 About: iDatalink ADS-BLADE-AL Bypass Module
The iDatalink ADS-BLADE AL is designed for hassle-free all-in-one immobilizer bypass*, doorlock interface and CANbus integration, simply insert your ADS-BLADE AL cartridge into your Blade-enabled remote starter's dedicated dock, connect your remote starter to your PC using the Weblink Updater™ Cable and flash your module with any firmware available in our entire library. *Accessories may be required where applicable and sold separately.
Universal 'all-in-one' integration cartridge. Web-programmable data immobilizer bypass and doorlock integration for over 4000 vehicle models from 1997 to date including exclusive KLON firmware applications. Inserts directly in Blade-compatible remote start, vehicle security and convenience products for seamless integration.
REQUIRES IDATALINK WEBLINK ADS-USB PROGRAMMER