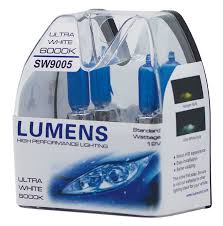 Features:
EASY INSTALLATION - Direct replacement, no additional hardware required!
ULTRA WHITE LIGHT - Excellent for clear nights and matches 6000K HIDs.
STANDARD WATTAGE - Will not melt wires or headlight housings.
HIGH QUALITY - Average life of three years.
COST EFFECTIVE - Inexpensive compared to HIDs.

Note: As we have no way to determine if bulb was handled properly, in accordance with manufacturer's warranty policy, there is no warranty on halogen bulbs.
*Exact bulb not shown